I had a great time in Cancun.  It was the perfect place to spend Christmas and to see out the end of 2016.  What a year!
I'm so happy I stayed with Susie and Alfonso.  Through their conversations and kindness I will be forever changed.
These are the other highlights of my time in Cancun:
Two Visits to the Cinema
First I saw, Collateral Beauty, and although the "critics" didn't like it, I loved it.  It had a moving story and a great message.
Then I saw Passengers.  I also loved this movie.  It created some wonderful ethical discussions afterwards.
Japanese Food
Yep, I found pretty good Japanese food in the foodcourt in Plaza las Americas.
Airbnb Dogs
I met two friendly, awesome dogs called Dodger and Nucky.
Jardin Mirmar
I found a sweet garden in downtown Cancun to stroll in.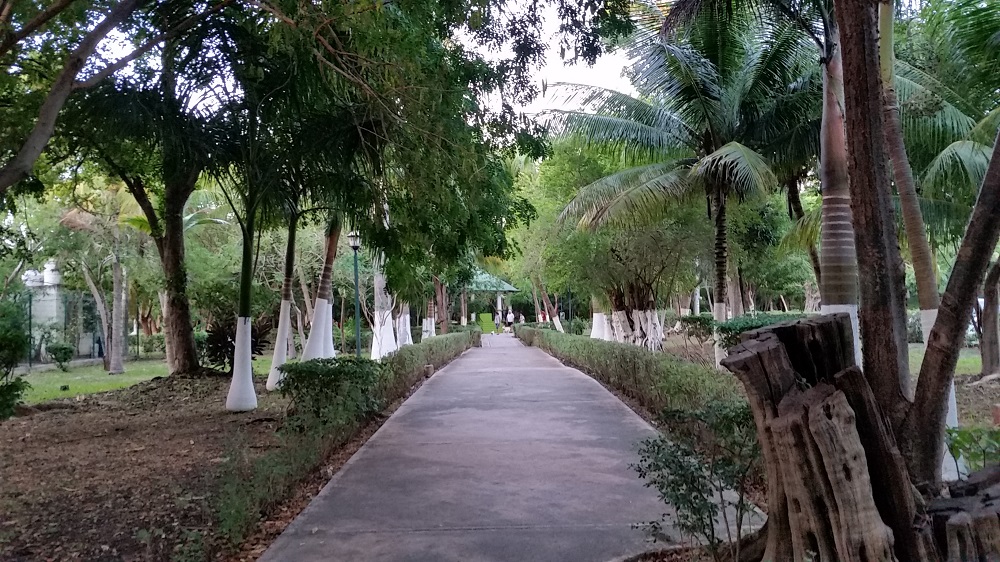 Local Quirky Things
In Mexico, you have many service offerings passing your house everyday – mostly bottled water.  I really liked this service though.  A guy on a bicycle who will sharpen your knives…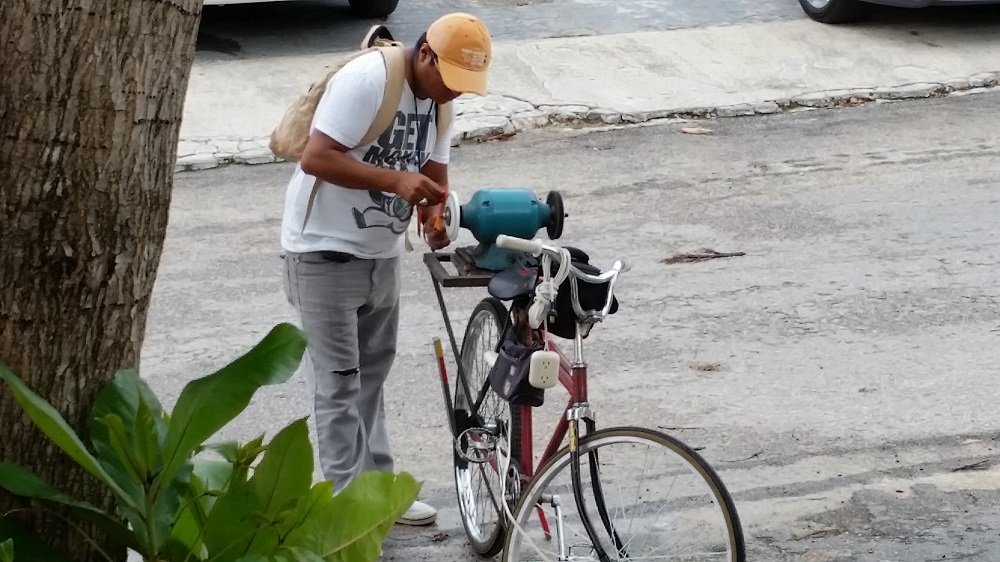 Christmas Dinner
Susie and I made Christmas dinner together and it was awesome.  I always believe Christmas is about giving your time, not presents.  It's also about tasty food and great conversation.  I was very lucky this year.
I made zucchini and sweet potato parmigiana from scratch.  I almost had forgotten how to cook.
Susie made a traditional hot Mexican drink.
It was a great night.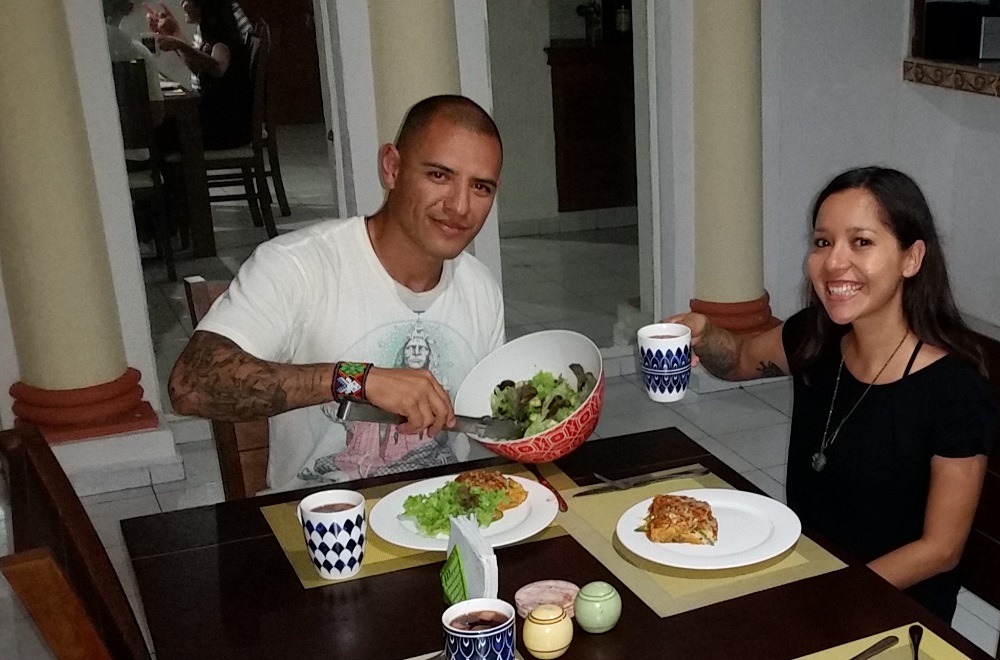 And great dessert.
Christmas Day Breakfast
I wanted waffles.  There is no explanation for it.  I normally don't eat very much sweet or crappy food, but it was Christmas Day.  Considering how much Christmas cake I normally eat at mum's and dad's, I regarded this a cheat day.
Lucky there was a waffle house across the road, at Plaza las Americas.
And it has fruit, so that makes it 1% extra healthy.
And there is always a nice view of the surrounding area walking over the pedestrian bridge.
Susie's Cooking
One night, I got to try Susie's cooking.  It was traditional Mexican and it was delicious.
Local Coffee
With an invitation to try the local Mexican coffee at an off-the-track cafe, how could I resist?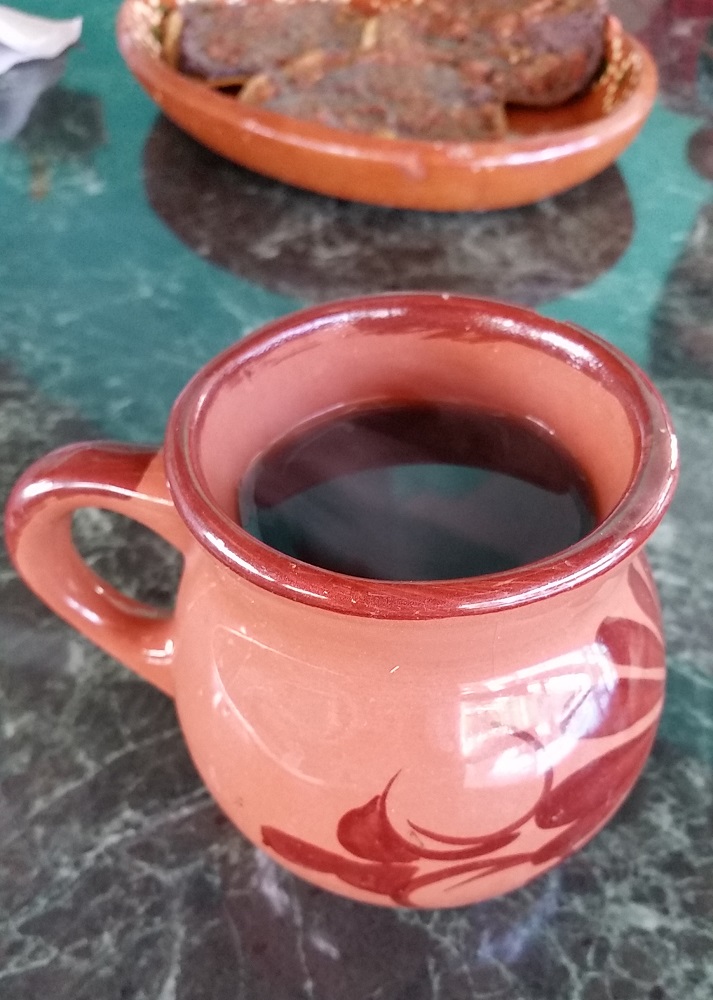 Starbucks in Plaza las Americas
My motto is – when out of good coffee options, there is always Starbucks.  Sometime the Americano con leche is a life saver.
New Book – New Point of View
I was lucky that Susie and Alfonso have a great book collection, and like ideas that are outside the box.
I got to read The Outliers by Malcolm Gladwell.
Amazing insights into successful people, and smashing the old idea that if you just work hard and copy successful people, then you will be successful.
Apparently luck plays a major part.  Read it?  I've love your thoughts…
Sunset on a Great Cancun Stay
As I mentioned, this was the perfect place, and the perfect people to spend the end of the year with.
See you next time Cancun…