The day had a singular purpose… to get a massage.  I hadn't had a massage since Lithuania, and the altitude made my body ache.  I did a lot of research online, as I wanted an affordable place with good reviews.
I thought I had found one – Clinica Nutrest Nutriologos. I booked a 2 hour relaxing session.
It was easy getting an Uber there.  The staff were friendly enough, but as it turned out, they had no idea how to massage….. at all! It was the worst of my life.
It was like they watched a Youtube video, and then tried to give a massage from memory.  They had no technique, no skills.  I pulled the plug on the 2nd hour, and got out of there as fast as I could.  Wow, what a waste of MXP$600.
If there wasn't a language barrier I might have explained how bad it was.  But my Spanish was just not that advanced yet, and neither was their English.
So I left feeling worse and more tense than when I arrived.  I didn't know what to do with the extra hour I had acquired.  I looked on Google Maps and saw I was next to a park – Chapultepec Park – and it looked like a great place to relax and recover.
Chapultepec Park
The entrance was near the bus station.
Then I just followed the direction everyone else was heading.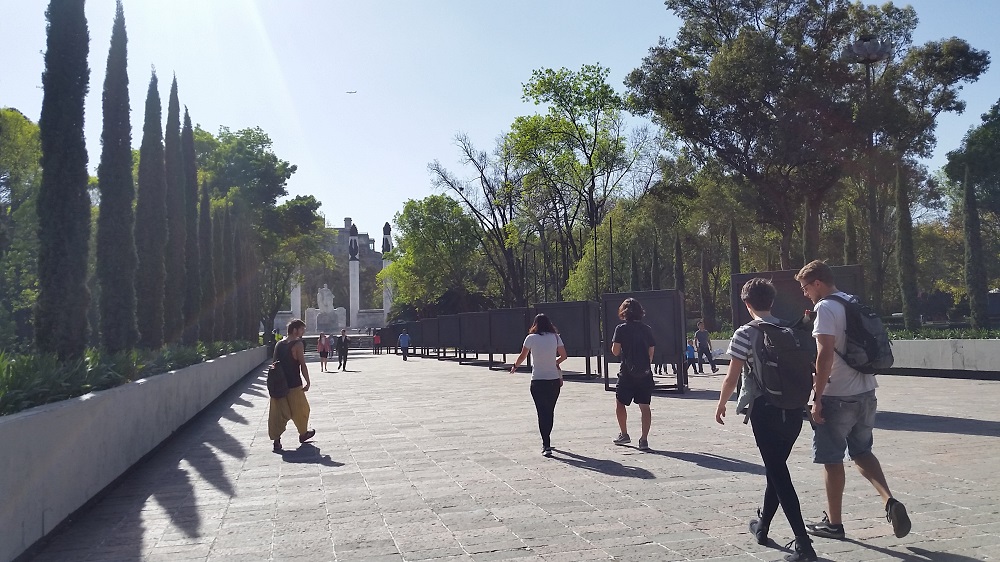 The path led me to Altar a la Patria. This is the monument dedicated to the sacrifice of six young soliders.  More on that later…
I kept walking to see what else I could find.
Many tourists were heading up the hill, and I thought the view up there might be good, so I followed the road up the hill as well.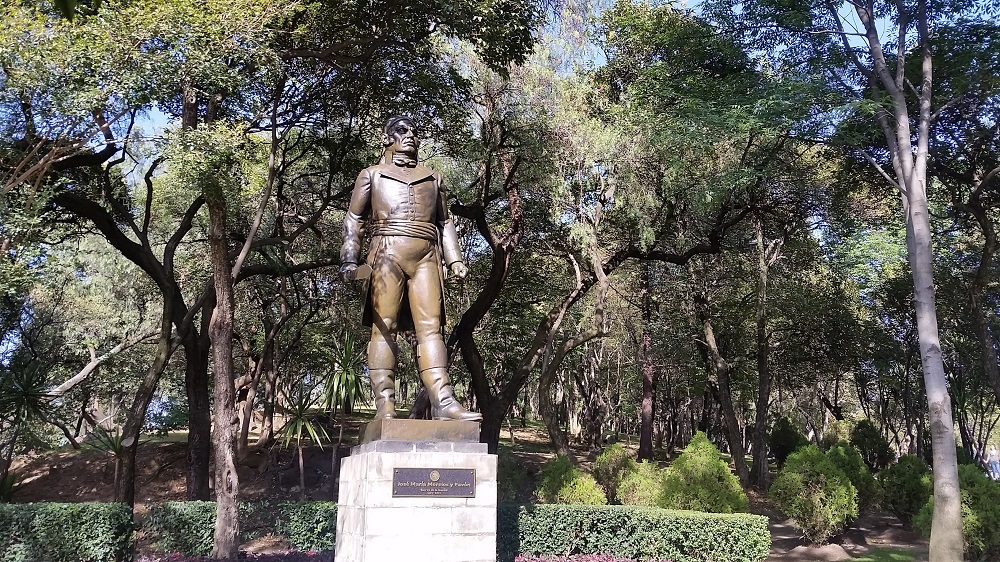 When I reached the top the gate was open to enter the grounds of Chapultepec Castle.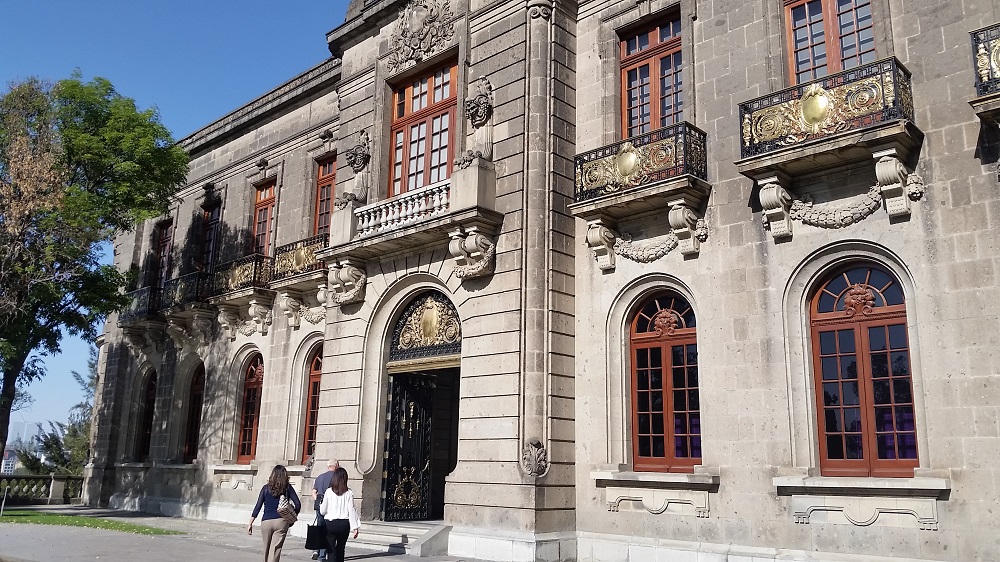 It offered a wonderful view down to the "Central Park" of Mexico City.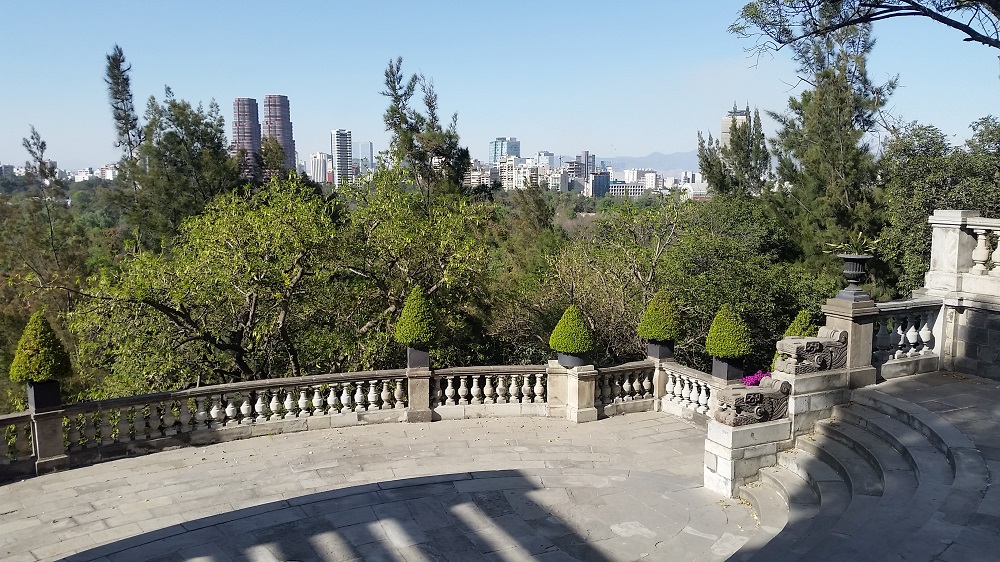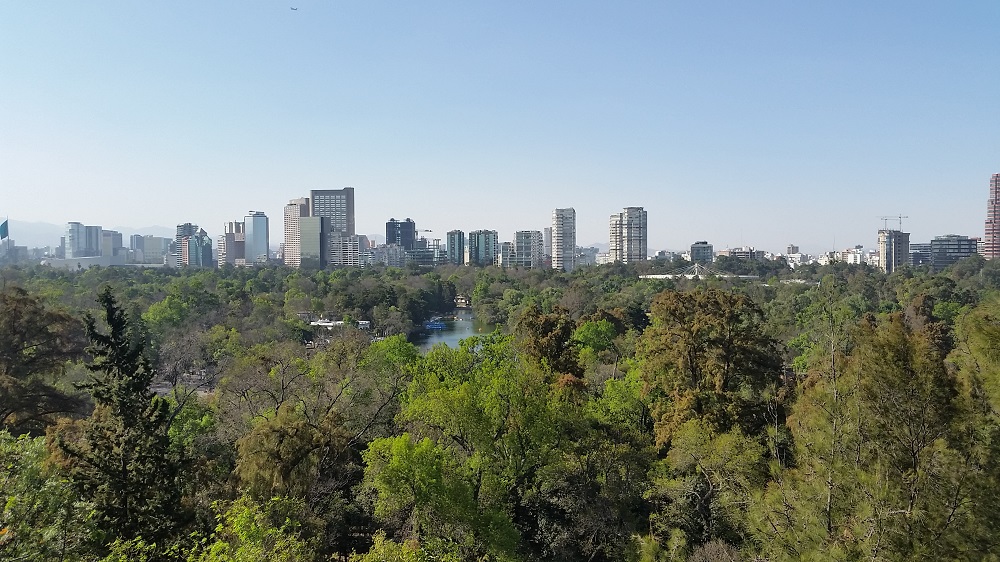 The Castle looked so regal, shining in the afternoon sun.
The front door was open, so I popped inside.  I was curious how much it might be to see the interior.  Instead, there was no ticket booth.  The entry appeared to be free.  I was directly in the front room, that displayed a huge wall mural, painted by Juan O'Gorman.
I was surprised to see the name O'Gorman, as I believed that my grandfather on my mother's side was originally O'Gorman.
Juan O'Gorman was born in 1905 in Mexico, from an Irish father and a Mexican mother. He was friends with Diego Rivera and Frida Kahlo and painted for them.  His paintings often displayed Mexican history, landscape, and legends.
The castle was just as regal inside.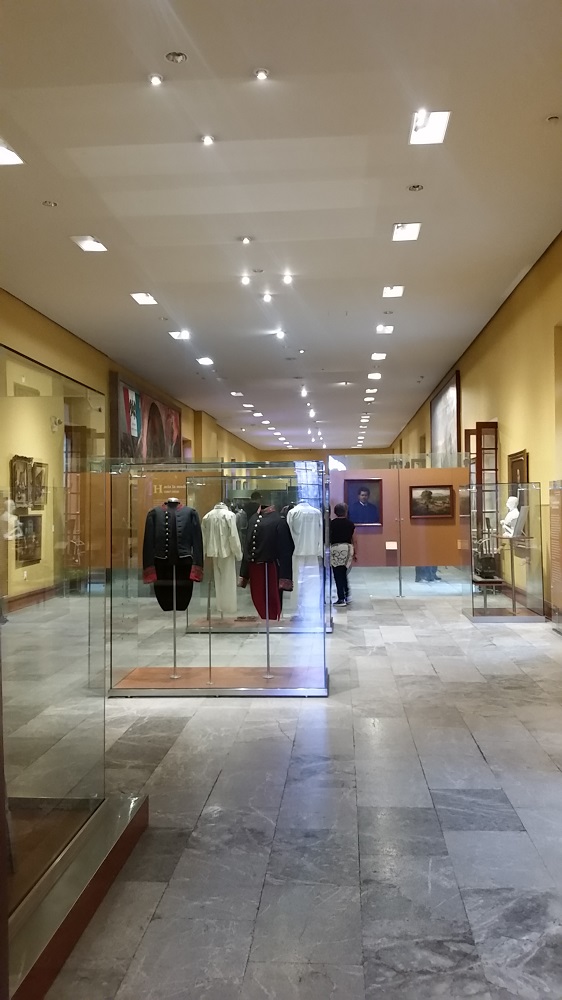 There was a good mix of artifacts, clothing and paintings.
There was another famous Juan O'Gorman mural that I had to capture in panoramic view because it was so big.
The paintings were wonderful, full of historical scenes as well as cityscapes.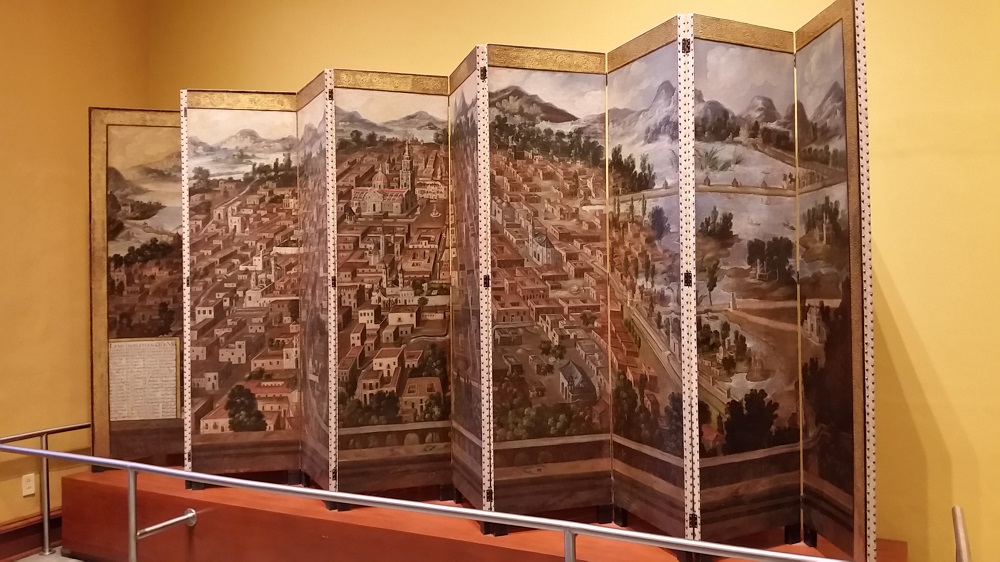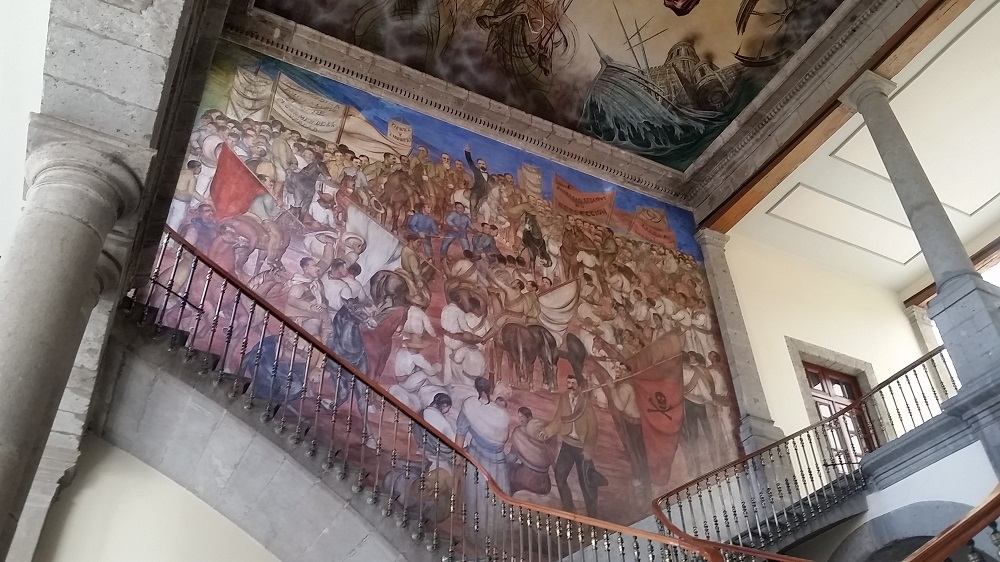 This outstanding piece is on the ceiling, depicting a young solider falling from the castle, wrapped in the Mexican flag.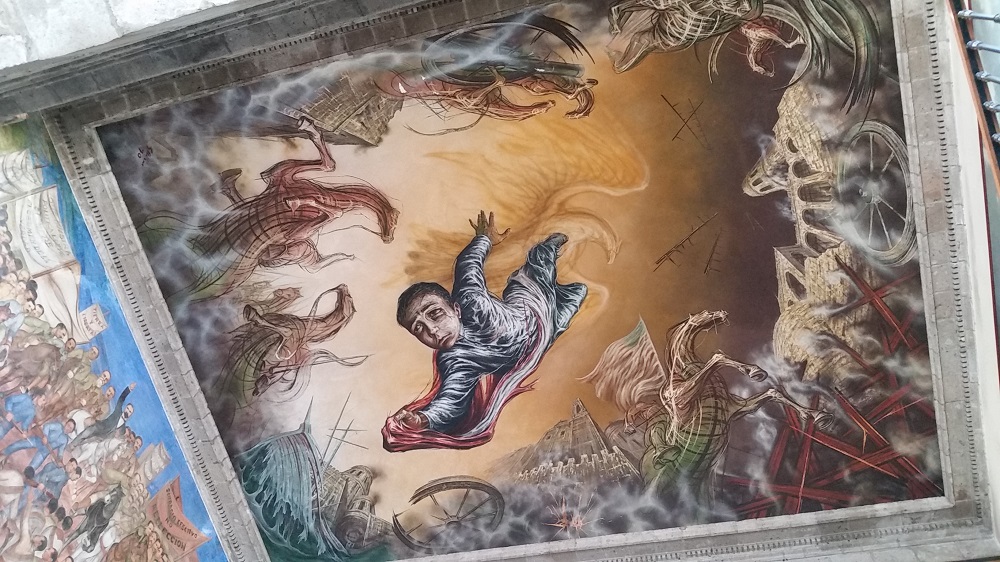 They even showcased some of the royal carriages.
Even the hallways were a visual delight to walk down.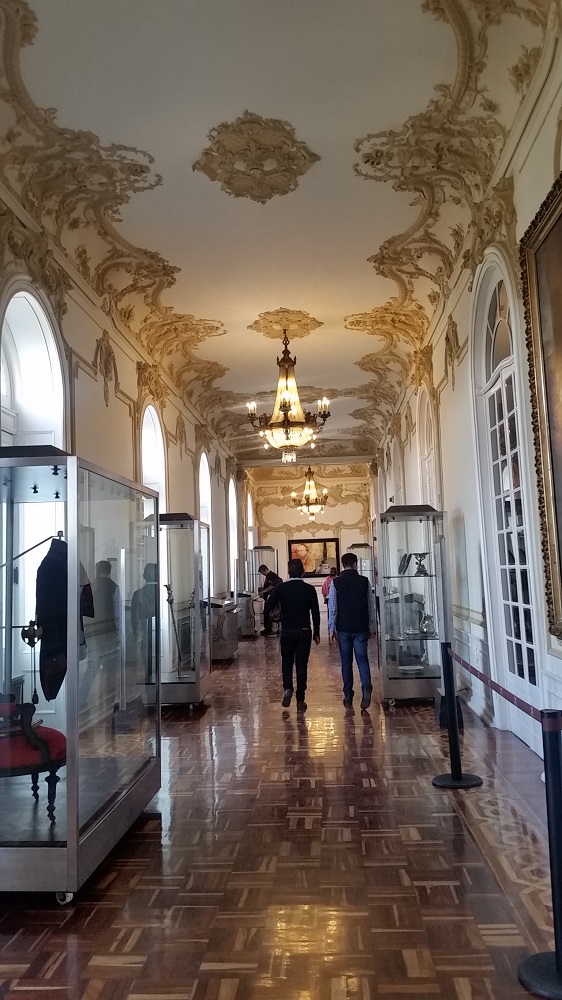 On the other side of the castle was an enormous balcony, with a view down Paseo de la Reforma.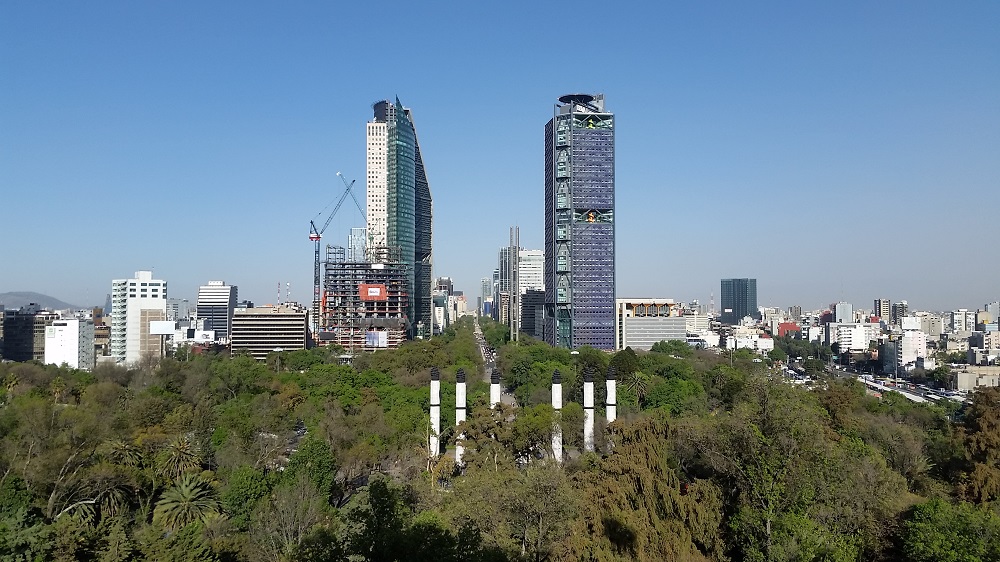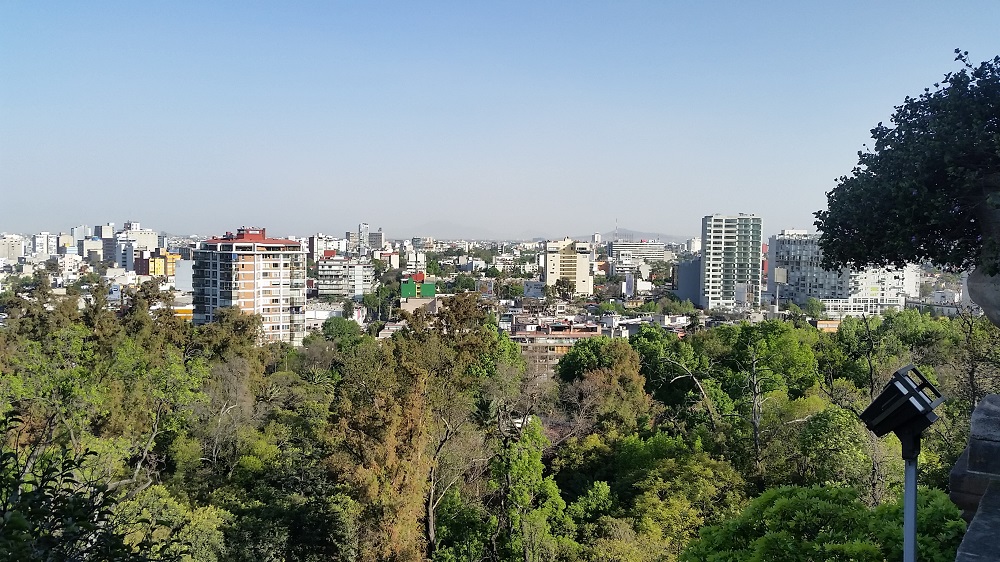 I saw some people heading up to the top level, so I thought I would have a look as well.
You could actually see the original residence of the emperor.
The stained glass windows were breathtaking.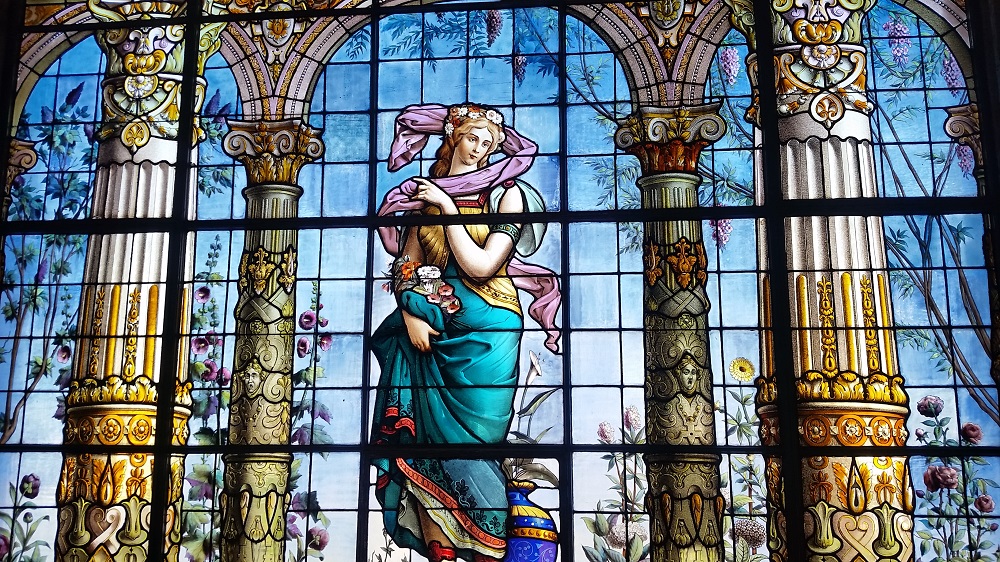 Outside the rooms, on the roof, was the most beautiful garden.
With paintings on the exterior walls as well.
It was such a magical place, perched on the very top of Mexico City.
It was time to head down.
With a perfect view of the statues of the six.  They are called – Los Ninos Heroes.
Los Ninos Heroes
On September 1847, American forces were quickly advancing on Chapultepec Castle. After the Mexican army had left, six young men, aged between 13 and 19, refused to relinquish their posts and bravely faced the American army.  They are remembered today with reverence and national pride.
Their statues forever overlooking Mexico City.
Then I headed out the gate.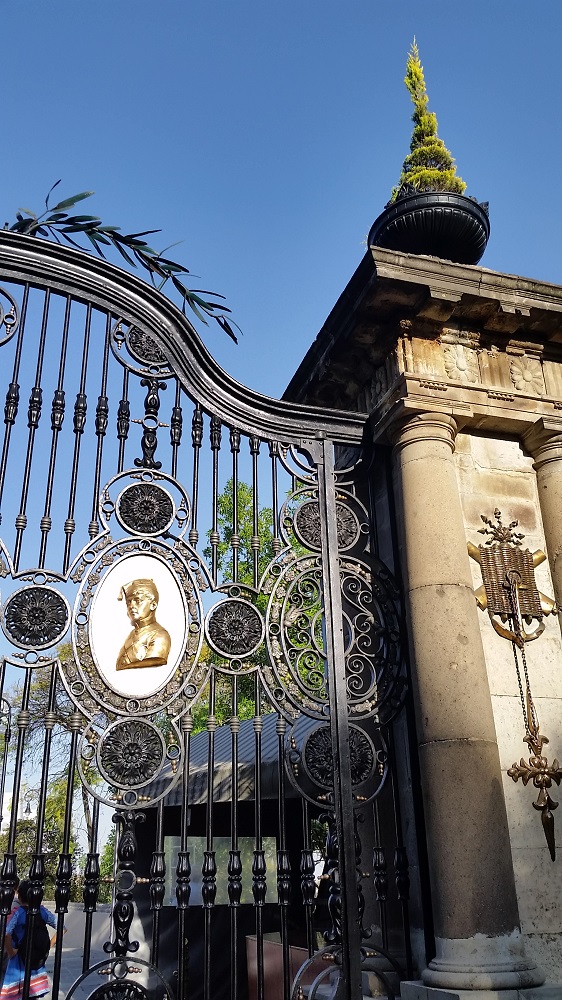 You might have noticed that I don't normally visit museums, but I am glad I accidentally saw this one.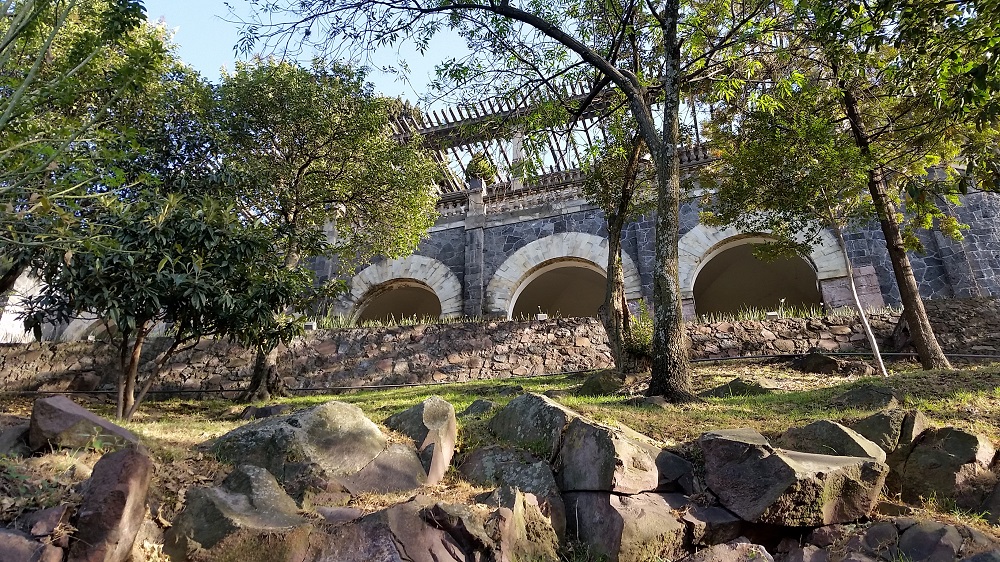 It was getting darker as I headed down the hill.
I thought I would head back to La Condesa and find some food.
I really like this park. It is definitely a place I could visit often.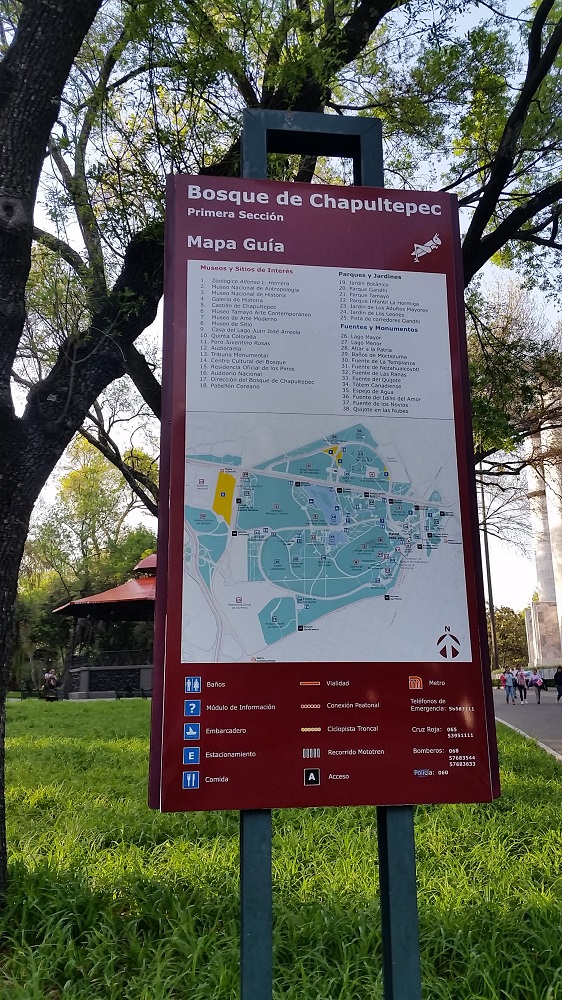 I crossed the busy road, using the subway/ metro tunnel.
It was relaxing walking through a quiet Condesa at dusk.
It truly is a beautiful part of town.
I found a falafel place, and I was going to have a small plate, but then I saw the prices were MXP$120 a plate. Yikes! I quickly left and headed back to the place I knew I would get good value – Nosferatu Pizza.
The vegetarian pizza was awesome the second time too.
La Condesa is also home to a vast range of patisseries.  So it would have been a sin NOT to try something.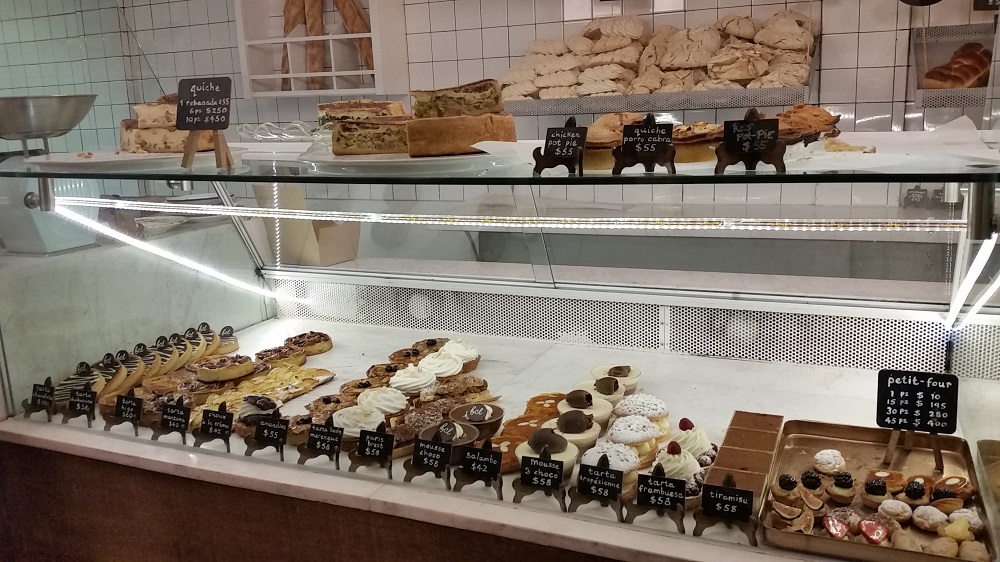 The Chantilly eclair was very good.
As I headed home on foot (the cars didn't seem to be moving much in traffic), I noticed the most awe-inspiring full moon shining over the city.
The afternoon started out so disappointing, but then finished with a magical adventure.