Getting around South and Central America is not really affordable.  If you've experienced cheap flights in Australia, Asia, Europe and America, then you are in for a shock if you try to fly in between Central and South American countries.
Maybe it's supply-and-demand, maybe they charge a lot just because they can.  Either way, if you are on a budget, you will struggle to keep costs down flying here.
Getting from Cartagena to Mexico City is not straight forward.  The only option I saw when I booked was to fly back to Bogota and then fly direct to Mexico City.  However I have since learned that quite a few locals fly to Panama City and then fly to Cartagena.  Either way, there's nothing fast and affordable.
Flights in Colombia are affordable, especially if you travel light.  I managed to get a good deal with Latam from Cartagena to Colombia for AUD$42.50.  But there were no good deals from Bogota to Mexico City, and the best price I could find was AUD$283 one way – ouch! It's much more than I paid to fly from Barcelona to Miami.
Anyhow, the day started well, the Uber arrived on time, and we headed towards the airport in Cartagena. It looked like another beautiful day.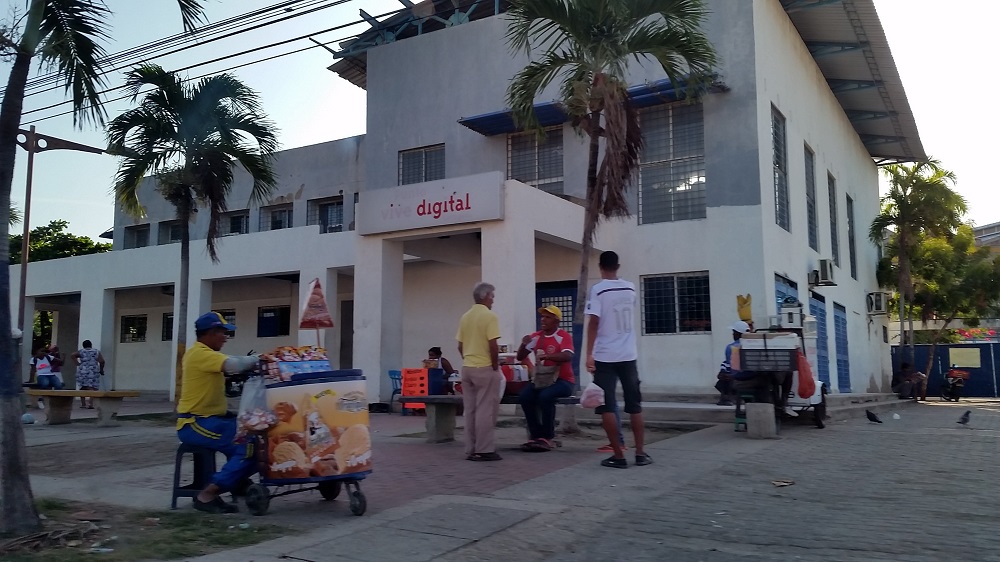 Cartagena Rafael Núñez International Airport
We arrived in about 25 minutes, and given the morning traffic, that was quite good.  Again, it's another airport that reminds me of the Gold Coast Airport.
Luckily, with flying Latam, I had already checked in and downloaded the Mobile Boarding Pass (awesome, and Viva Colombia should get on board with this).
So I just headed straight to Departures.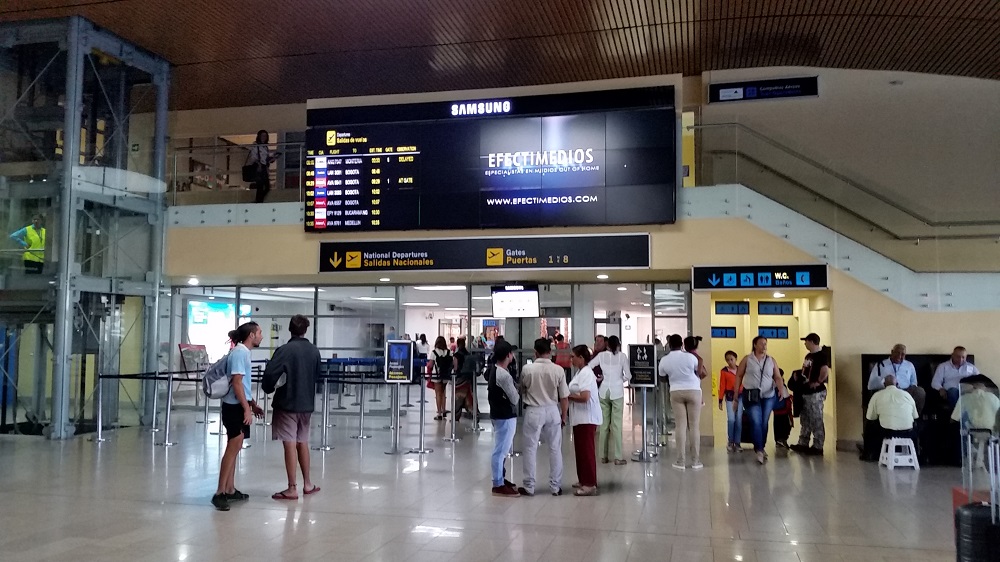 Due to my sudden onset flying nerves, I have tried to stop drinking coffee before I fly.  But today was not that day.
With limited coffee options, I chose to go with Oma cafe.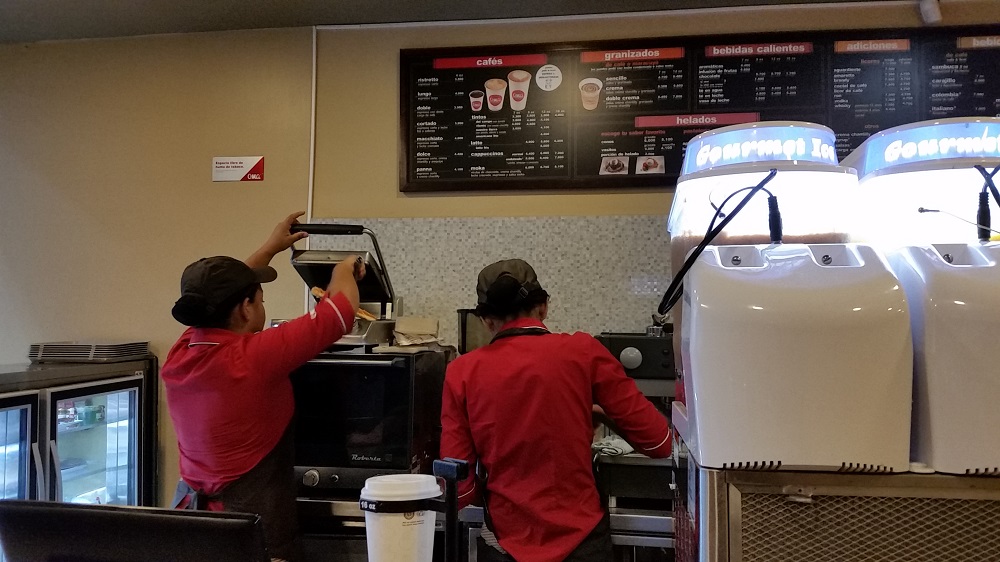 It was surprisingly better than my last Oma coffee in Bogota.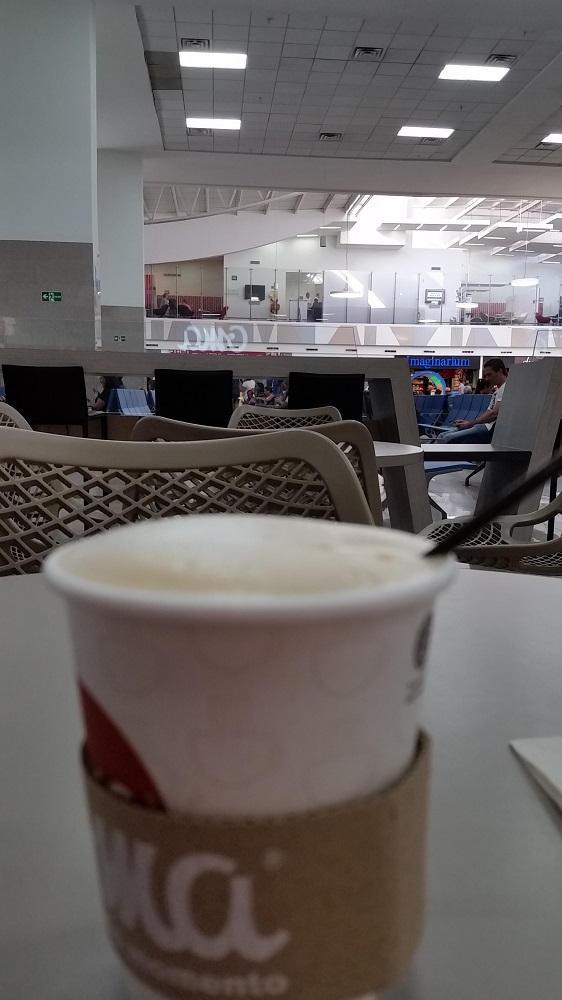 Soon we were boarding.  This also reminded me of the Gold Coast.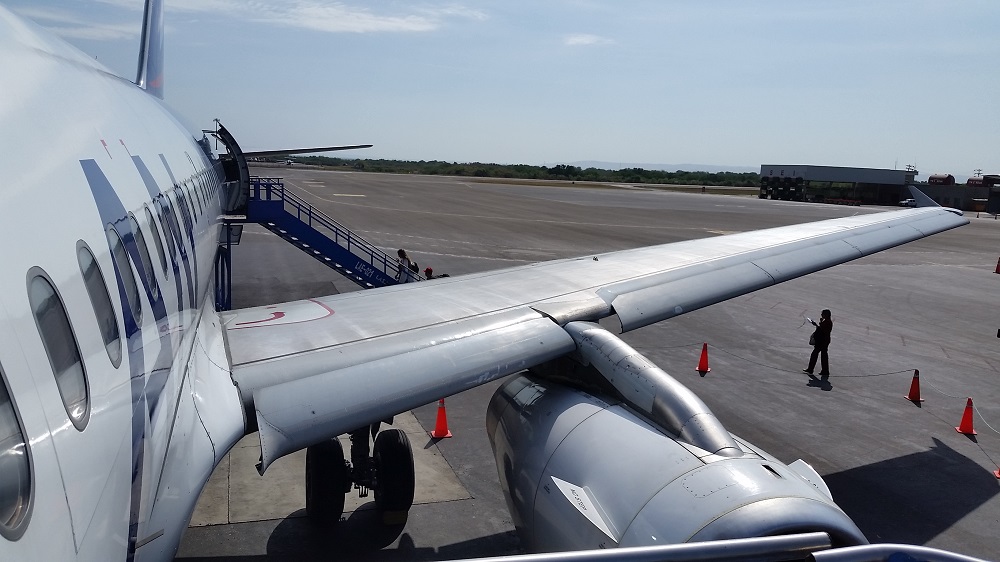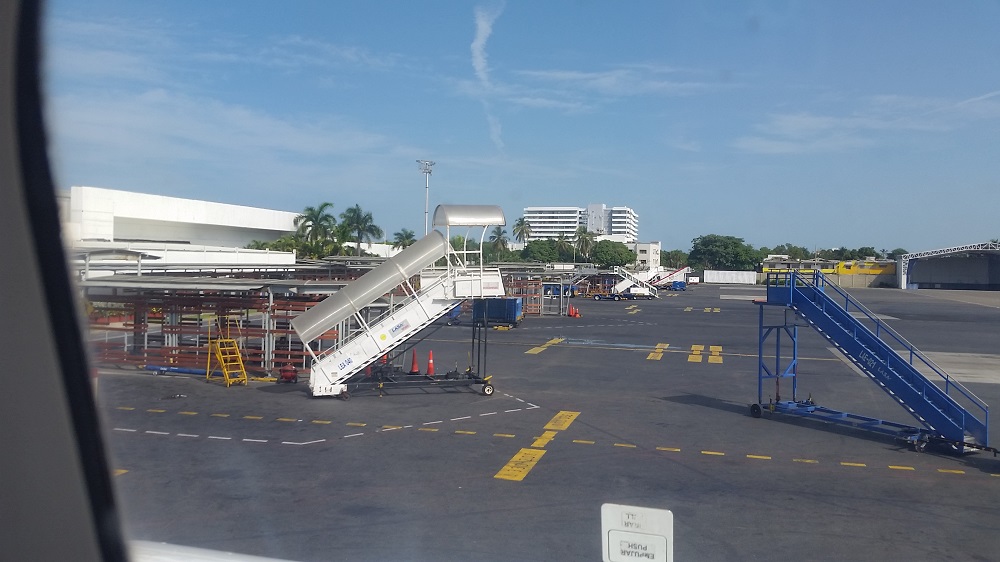 I'd never flown Latam before.  It seemed like any other budget airline, with really, really tight legroom.
Right on time, we took off.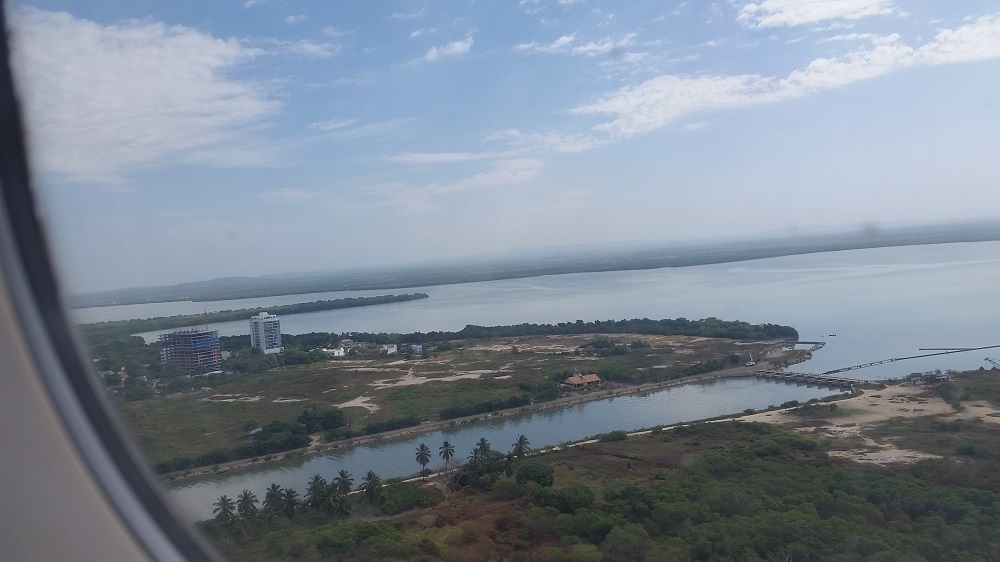 And what an amazing view of Cartagena I had.  Great send off…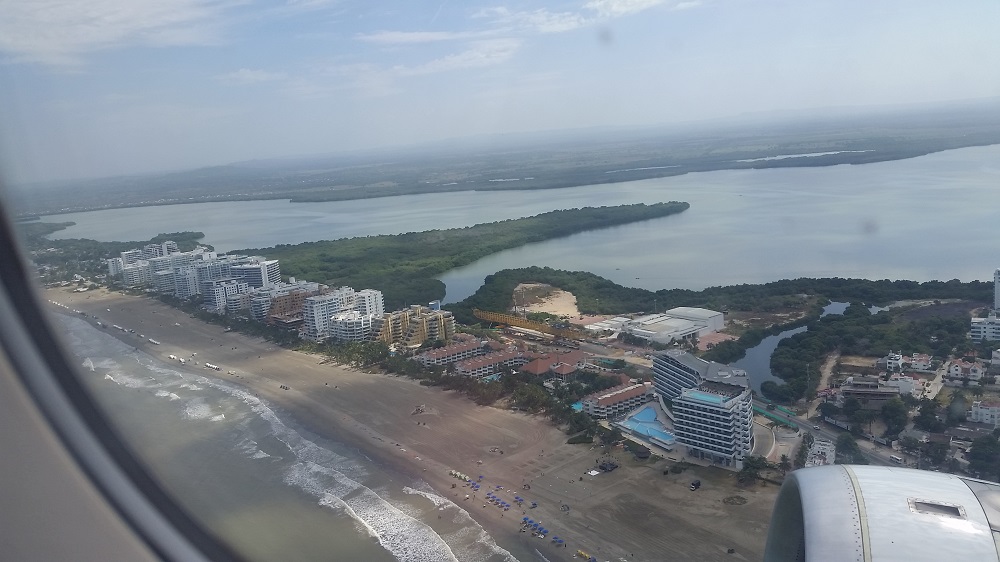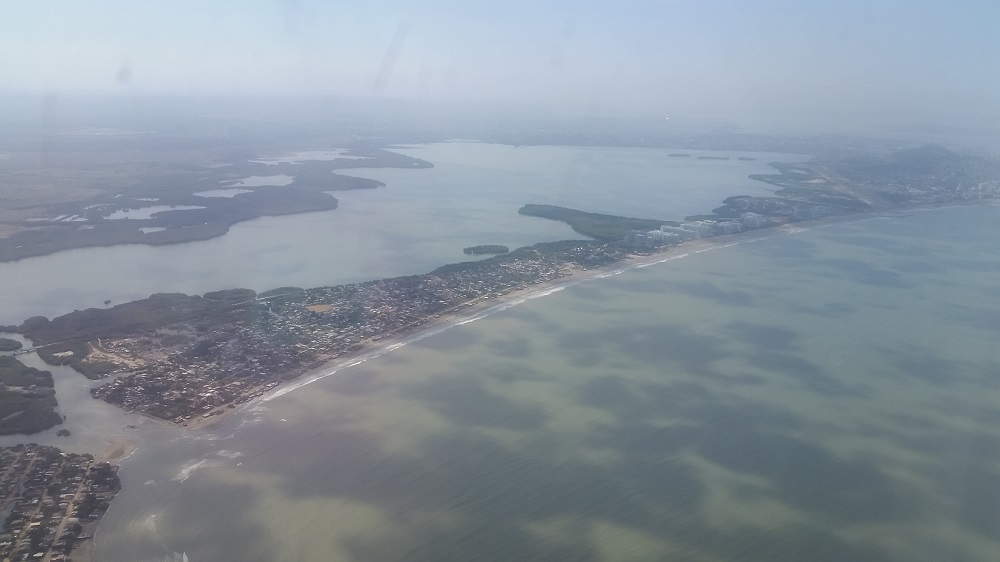 I could almost see where I stayed in Manga.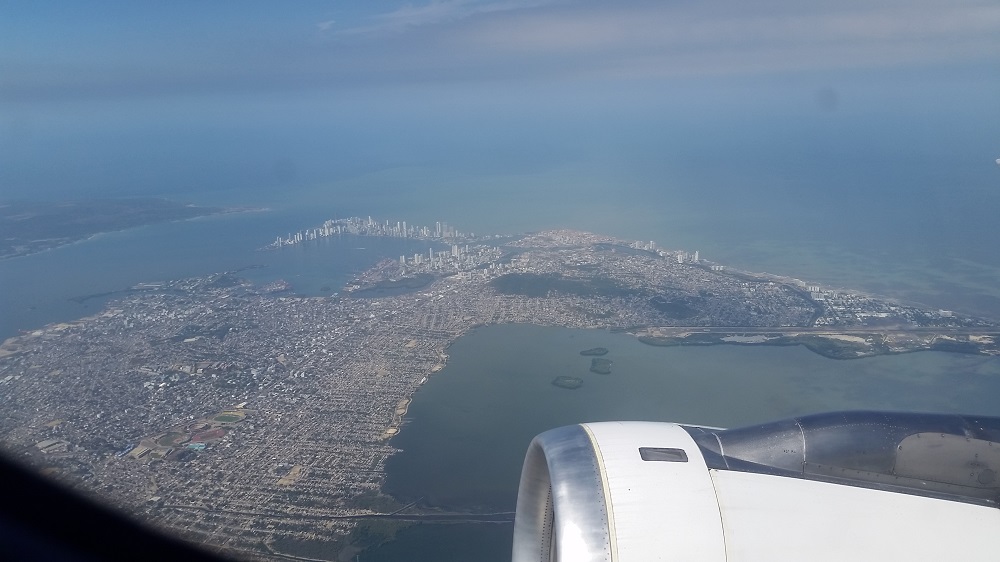 The flying time was about 1 hour.  It was a very smooth flight.  Soon we were coming into Bogota.
I was glad the weather was good.
It was a sunny day.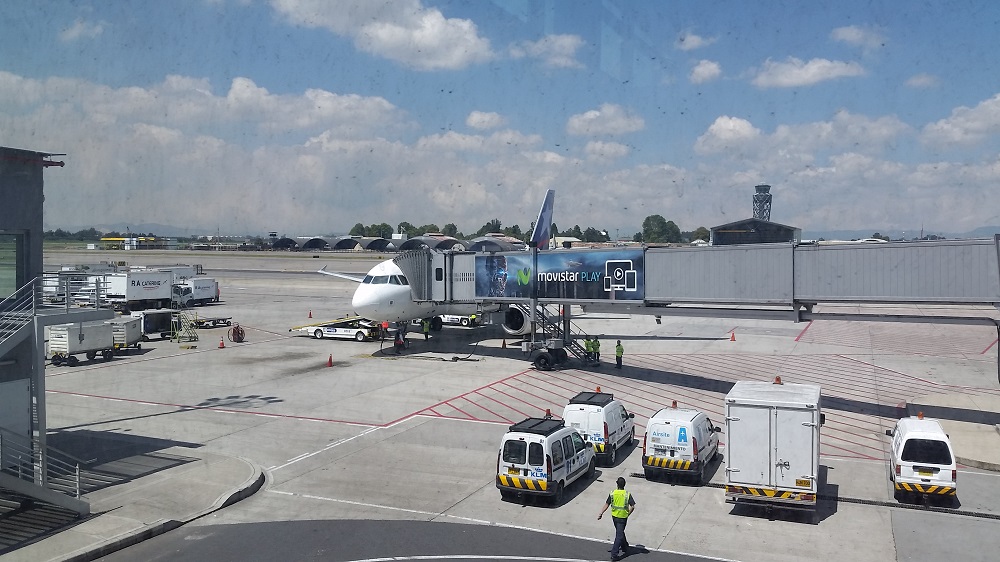 I wasn't sure what I was going to do with my layover of 4 hours.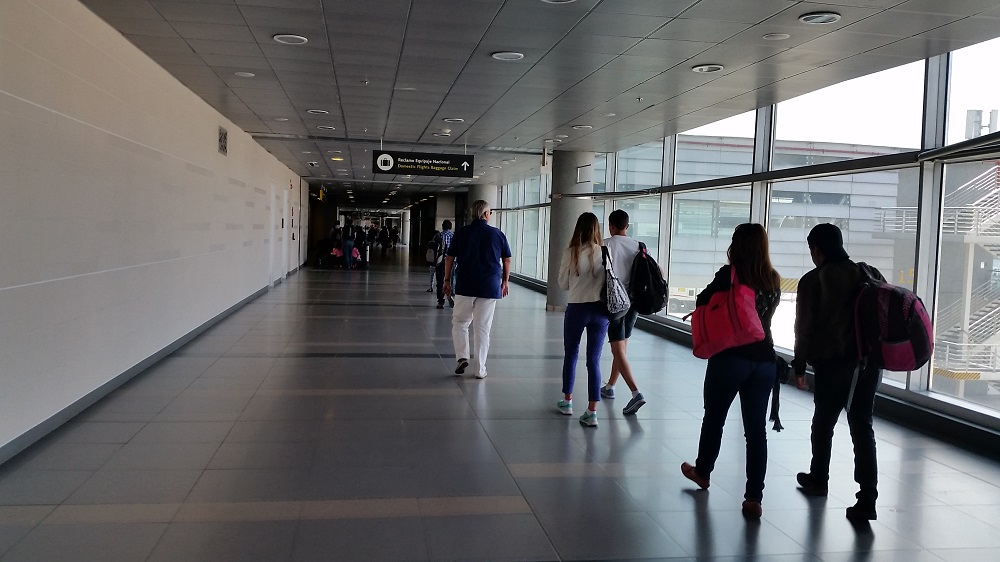 I headed to arrivals.
It was weird being back in Bogota.  I felt like I had just been there yesterday. Actually 1 month had passed.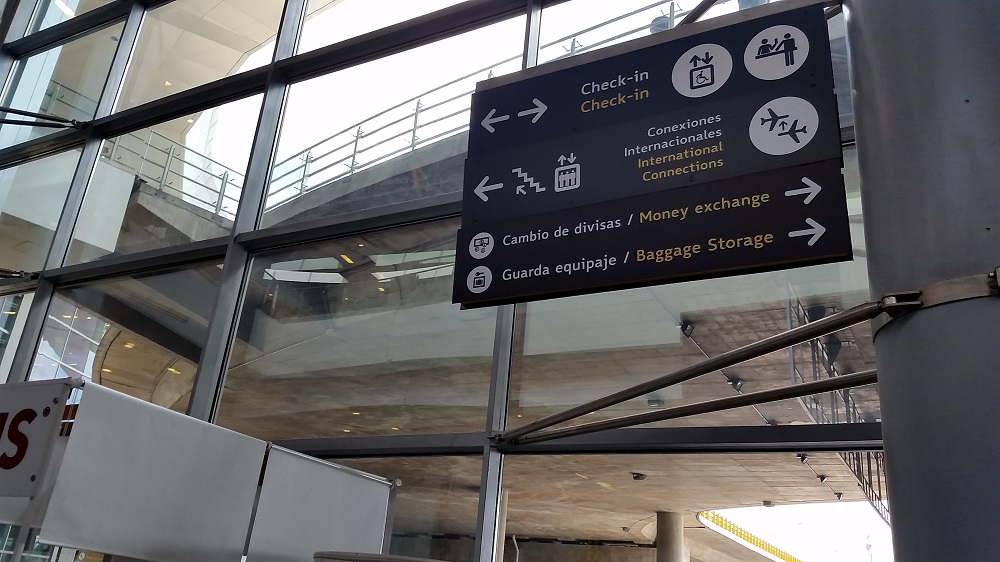 I decided to go down town, and I opened the Uber app.  I didn't know if it was a glitch, but I could only see Uber Blacks.  Uber Blacks are a lot more expensive, and I didn't want to spend $100 going to town and back again.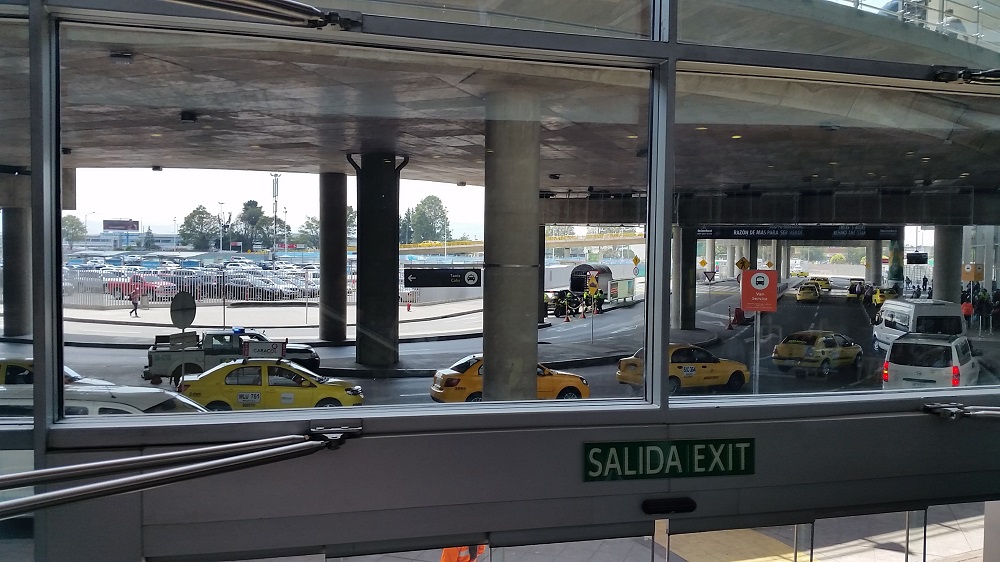 I decided to stay in the airport and go and find some brunch/ lunch.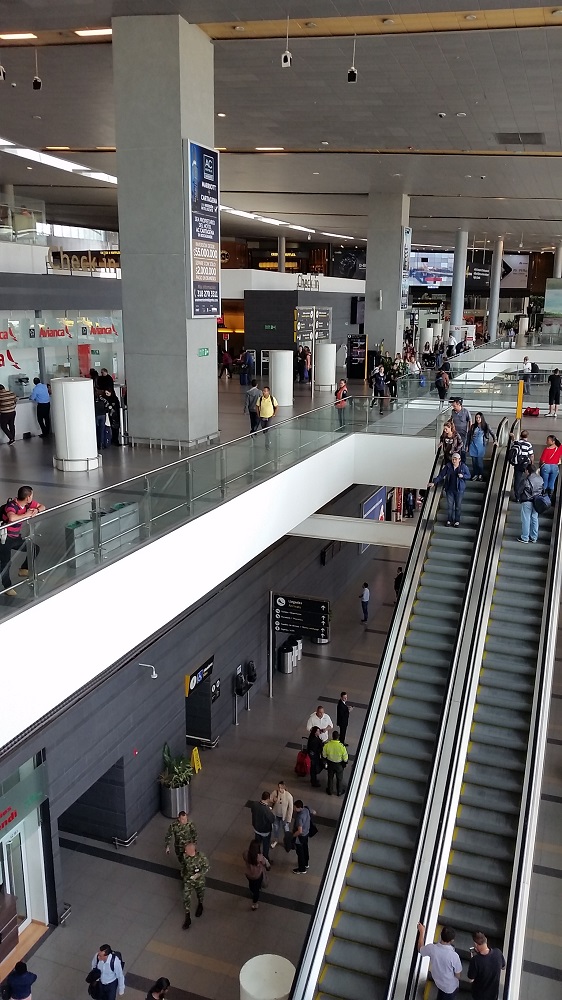 All the restaurants and eateries were on the top floor.  Yes, this is a strange co-incidence, but I chose to eat at the Oma Cafe Restaurant because I liked the look of their soups.
Also it had a nice spot to sit.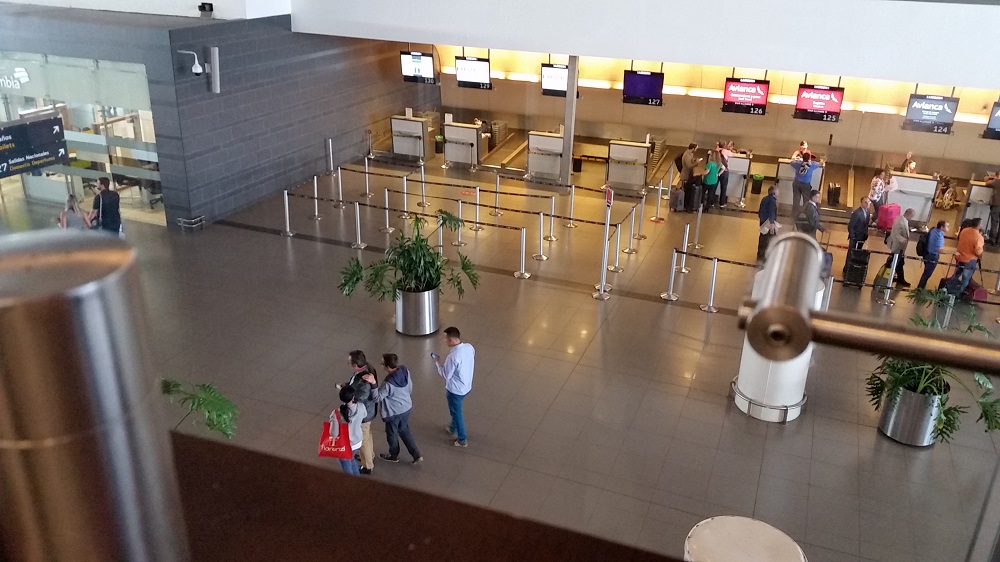 After lunch, I headed off to find the Interjet check-in area. The day was so clear, I could see all the way to the city.
Interjet had two flights leaving fairly close together – one to Cancun and one to Mexico City.
Check-in was the longest queues I've seen in a long time.
Finally, after waiting 30 minutes in line, I was taken to an Express Line for passengers without check-in luggage.  I wish I knew about this line before.
Finally I was heading through Immigration and Security to Departures.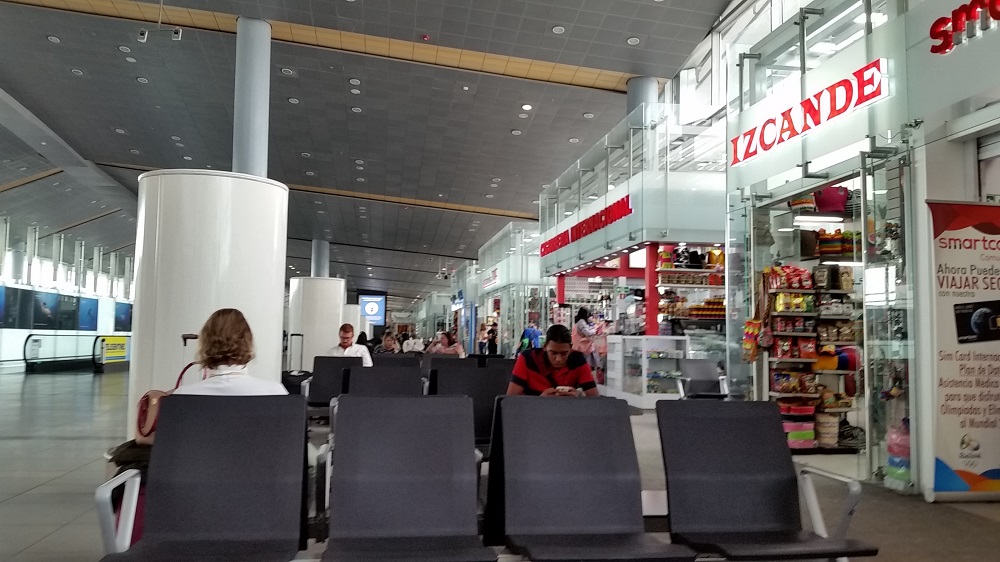 There wasn't any nice places to sit or nice place to get a drink, which was very strange for the capital city international airport.
It also became clear to me that we were leaving late.  They didn't know how late.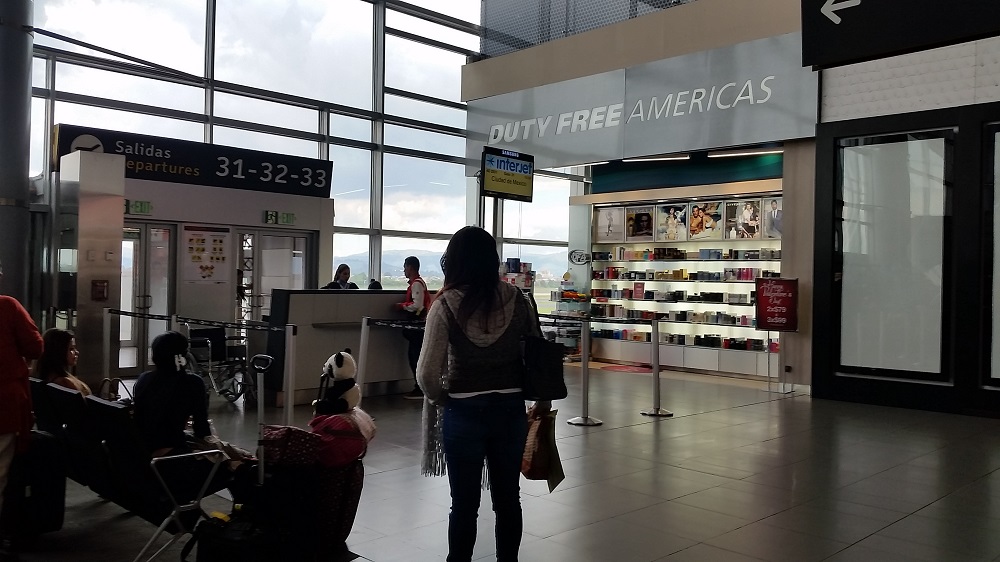 By the time we started boarding, it looked like we were 45 minutes to an hour behind schedule.  Not a biggie.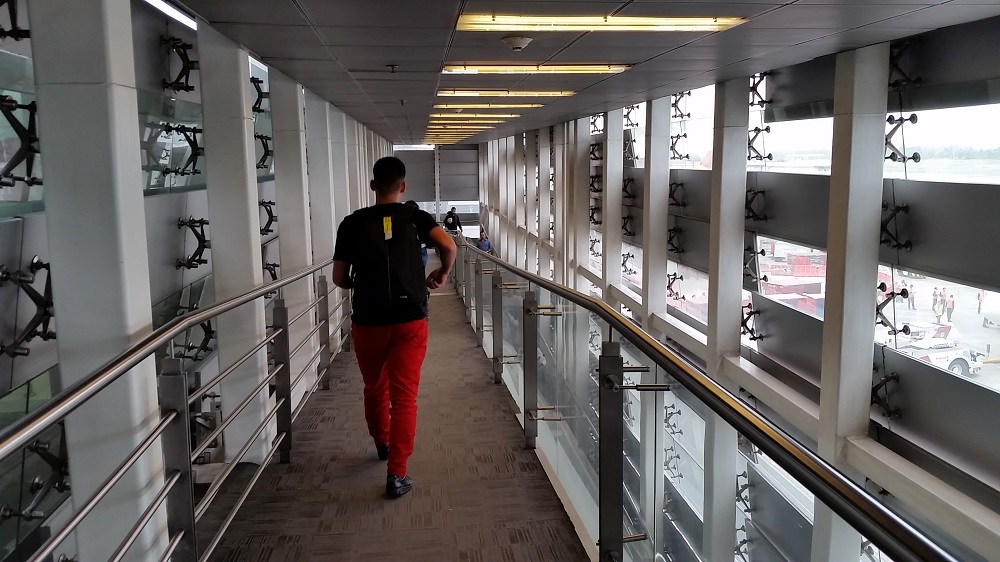 I was more concerned with the baby plane I saw out the window.  I was hoping for a slightly bigger plane for the 5 hour flight.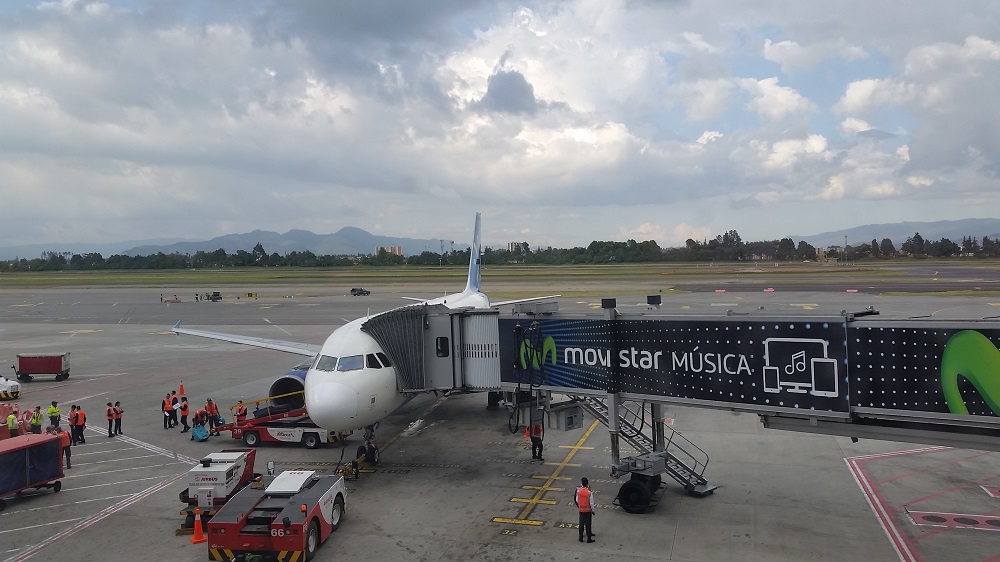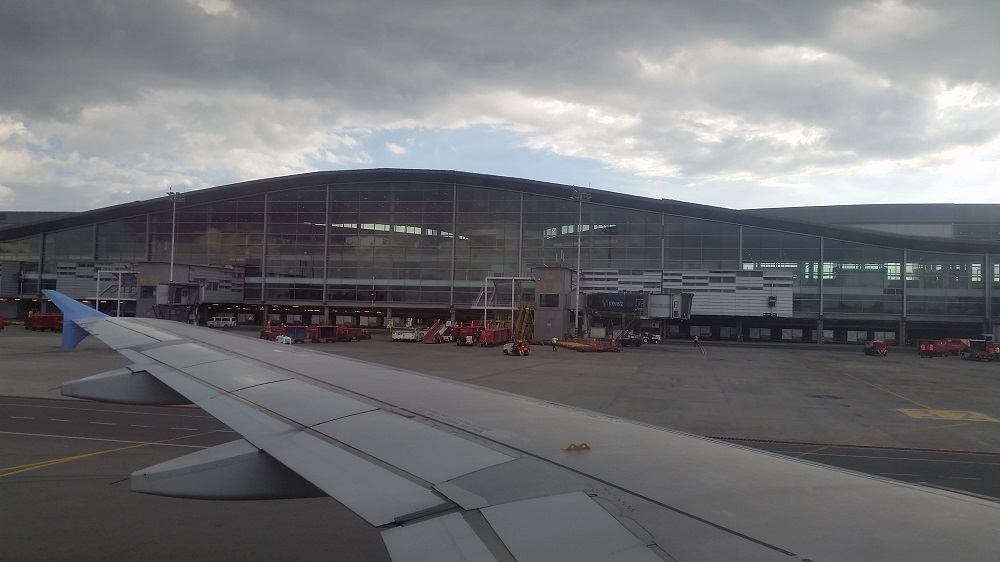 On the tarmac, it was rush hour and we we stuck for another 20 minutes.
Finally we were in the air.  Just in case you missed the pics from my last take off from Bogota, I thought I'd snap a few more.
The light falling across the land was magical.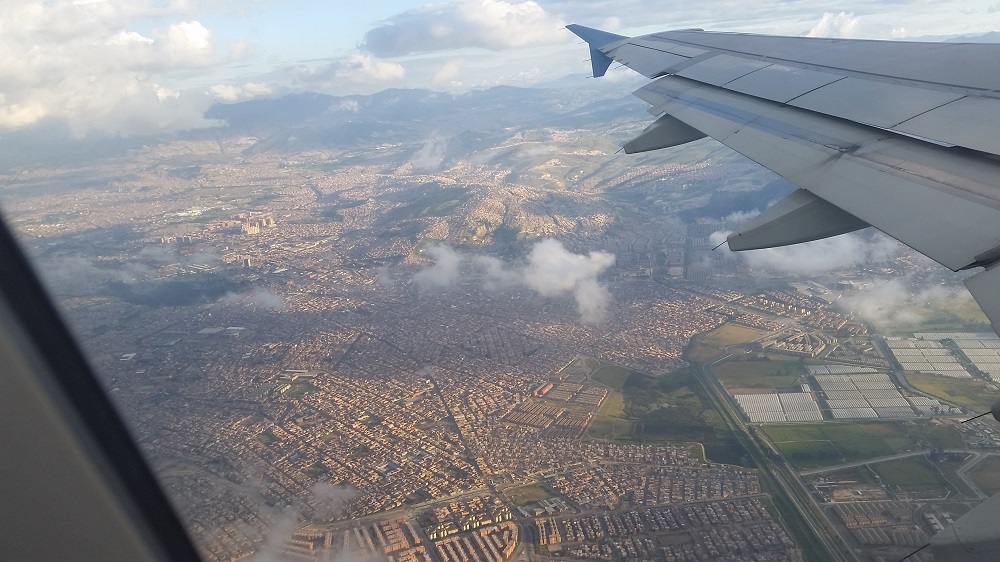 It was a pretty full flight, which was surprising.  The clouds were mesmerizing.
And even though we were pretty high, I could swear that there was a mountain just underneath us.
We then hit some nasty clouds and got bounced around a bit.  But then luckily everything settled down, and I saw a magical sunset.
The flight stayed smooth and after flying for about 4.5 hours I saw the bright lights of CDMX.
Immigration was fast, and I was soon in the terminal.
I knew I could get a train/ metro to the airbnb, but it had been a LONG day, so I checked the price of an Uber.  About AUD$6 – $7 – done!
The Uber arrived quickly and it was an exciting 20 minute ride to the airbnb.
At this point I was really hungry, and after I checked in, I headed across the road to look for food.  It was 10pm so I wasn't sure what I would find.
Luckily Mexicans eat late and Crepes and Waffles was still open.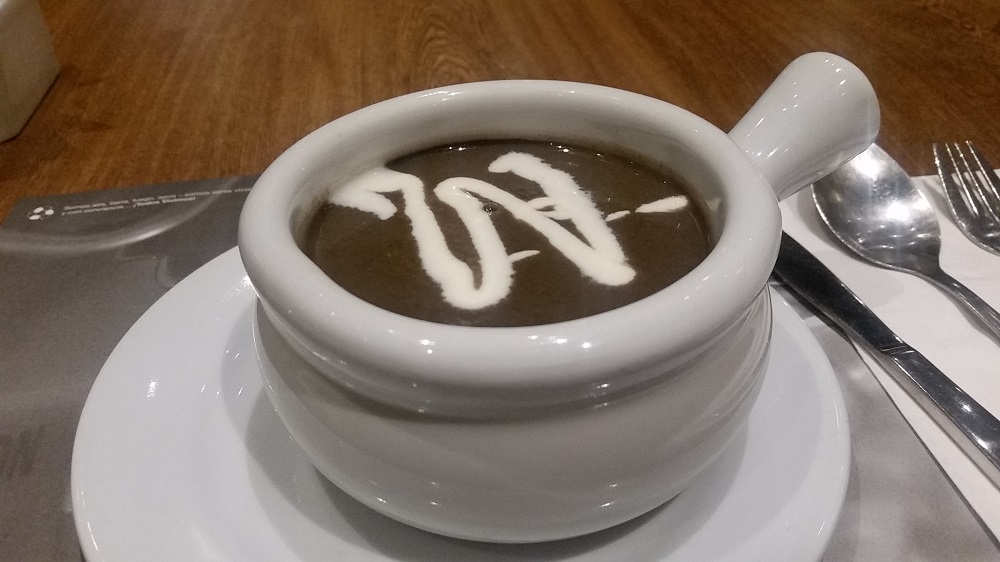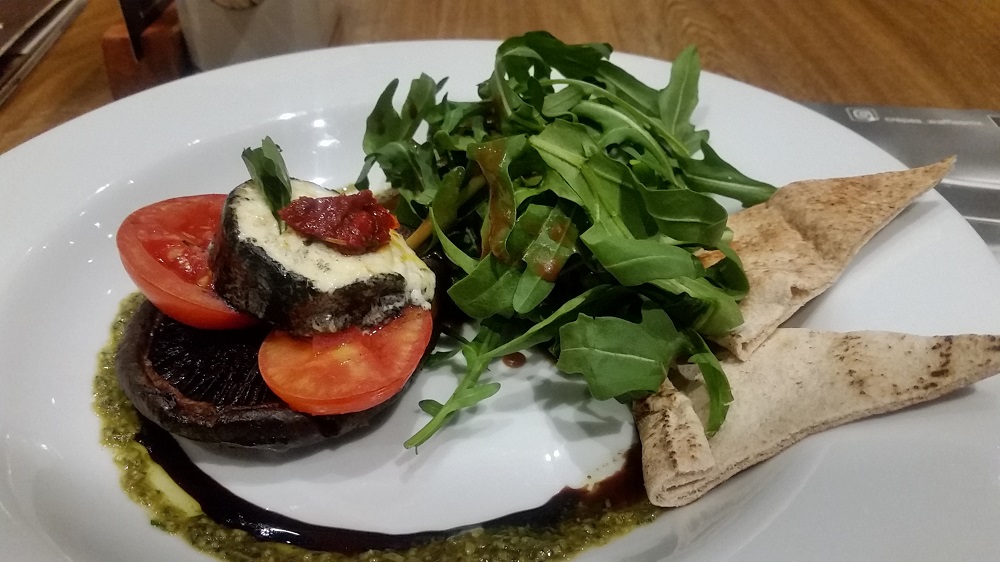 One soup and salad later I was feeling much better.
Time to sleep.